HOTEL JAL CITY TSUKUBA
NOTICE OF REOPENING OF THE HOTEL JAL CITY TSUKUBA
Dear valued guests
We extend to you a very warm welcome to our hotel.
The hotel will end its lease as an overnight treatment facility due to the new coronavirus infection (COVID-19) at the end of September 2023. After about four months of restoration work, it will resume operations on
Thursday, February 1, 2024.
Prior to the resumption of business, accommodation reservations will be accepted from Friday, December 1, 2023.
Enhanced convenience
and hospitality
Directly connected to Tsukuba International Congress Center.
Located in the Takezono area, close to various research institutions.
A space that is coordinated with a calm interior and hospitality with a sincere heart.

Guest Rooms
8-minute walk from TX Tsukuba Station. Go through the promenade and you will find Hotel JAL City Tsukuba.
The lobby on the first floor is connected to the Tsukuba International Congress Center via a communication passage.
And also active as a small office during meetings.
There are many commercial facilities nearby, including parks, promenades, restaurants and pharmacies.
No need to worry about long stays.
Stay plan

・TV set
・Video satellite broadcasting (free)
・Phone
・Internet connection
 (wireless LAN format)
・Kettle
・Refrigerator
・Hairdryer
・Desk lamp
・Toilet with washing machine
・Tea set
・Body soap
・Shampoo
・Rinse
・Facial soap
・Amenity bar(Bath additive,Razor,Hairbrush,Slipper)
・Toothbrush
・Towel
・Bath towel
・Nightwear
*Please speak to the front desk when you need it.
・Trouser presser
・Desk lamp
・Clothes Iron
・Humidifier
・Crib

Room type
Persons
㎡

SINGLE

1
17.8

PETITE TWIN
〈Holly wood〉

1
17.8
2

PETITE TWIN
〈Bed in bed〉

1
17.8
2

STANDARD TWIN

1
27.0
2

DELUXE TWIN

1
31.0
2

ACCESSIBLE TWIN

1
36.0
2

SUITE

2
64.0

EXECTIVE SUITE

2
90.0
■All rooms are non-smoking|2~11F

・Suite room can use "Accessible room" only bed room.
・If Deluxe Twin Room is to be used by 3 guests, 1 extra bed will be provided in the room.
・Rates are current as of March 1.2020
・Prices are exclusive tax & 10% service charge.
・Rates may change without notice. Please confirm it when you make a reservation.
---
■ Check in …

15:00
■ Check out …

10:00
◇Is an early check in: Depending on the availability on the room.
◇Late Check out Charge
Till 3:00p.m. 30% extra charge
Till 6:00p.m. 50% extra charge
After 6:00p.m. Full amount
---
All rooms are non-smoking

2・3・4・5・6・7・8・9・10・11F
---
■ Wi-Fi … all guest rooms
---
■ Baby Cot …

free of charge
■ Extra Bed …

4,840 yen

Place : 2-20-1 Takezono Tsukuba Ibaraki 305-0032 Japan
TEL.+81-29-860-7700 / FAX.+81-29-852-7701
Reservation Center : TEL.+81-29-861-1166
E-Mail: reserve@tsukuba.hoteljalcity.com
■ New opening from February 2, 2024
Relax and enjoy your meal in an atmosphere of congeniality.
Regular
holiday

No regular holiday
(Except in special cases)

Opening
Hours

Breakfast 6:30-9:30(L.O.9:00)
17:30-23:00(L.O.22:30)*Open from mid-February

Price list

Breakfast 1,650yen
Dinner 9,680yen~ (Course Menu)

*All prices include tax and 10% service charge.
*Price and items may change without notice.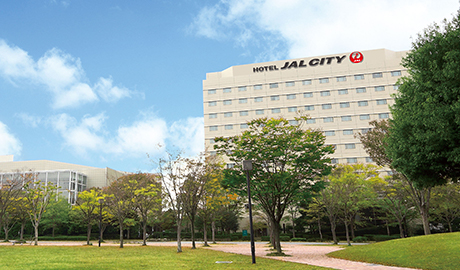 Address

2-20-1 Takezono Tsukuba Ibaraki
305-0032 Japan

TEL

+81-29-860-7700

FAX

+81-29-860-7701

Parking

Hotel private parking lot (29 cars)
1000 yen per vehicle per night.
(15:00-next day 10:00)

*If the hotel parking lot is full, please use the "South 4" parking lot diagonally opposite.
Facilities &
Tenants

186 rooms
Japanese Restaurant ROKUSAN [1st floor]
Coin laundry & bending room [2nd floor]
Method of
payment

Credit cards


DINERS・VISA・JCB・DC・UC・MC・AMEX・NICOS・UNION PAY
*Credit card can be used to pay for the accommodation fee. If you pay for the restaurant at the front desk,
 you can use it only at directly managed stores

Mobile payment treasure (Alipay)




*Only accommodation fee is available. It cannot be used in restaurants.

Tax 10%
Service charge 10%

By Car

15 minutes from the Sakuratsuchiura Interchange or Yatabe Interchange off the Joban Expressway.

By Train

・45 minutes from Akihabara station on the Tsukuba Express, a seven-minute walk from Tsukuba station.
・One hour from Ueno station on the JR Joban Line, 15 minutes by car from Tsuchiura station.

By Bus

Express buses are also available departing from Tokyo station,Yaesu South Exit, arriving at Tsukuba Center in 70 minutes. A seven-minute walk from the bus center.

11F

Rooms

Non-smoking floor
10F

Rooms

Non-smoking floor
9F

Rooms

Vending machineIce machineNon-smoking floor
8F

Rooms

Non-smoking floor
7F

Rooms

Non-smoking floor
6F

Rooms

Non-smoking floor
5F

Rooms

Non-smoking floor
4F

Rooms

Non-smoking floor
3F

Rooms

2F

Rooms

Vending machineIce machineCoin laundry
1F
Entrance & main lobby
Foreign currency exchange machine
Tsukuba International Congress Center access passage

Wireless LAN
(free connection)
Cable tv
Sports channel
Movie channel
Washlet toilet
Amenity set
Hair Dryer
Refrigerator
Nightwear
Writing desk
Minibar


*Suite Room only

Bathrobe

*Suite Room only

Trouser presser
Steam iron
Humidifier
Rental PC
(charged)
Desk lamp
Extension cord
Soba pillow
ICE-NON
Cooling Pad Pillow
Nail cutting
Thermometer
Sewing kit
Wine opener

Home delivery
arrangement
Taxi arrangement
Designated Driver
arrangement
Car rental arrangements
Wake-up call
Safety deposit box
Laundry service


*If requested by 10:00 in the morning, it will be delivered to the room by 6:00 in the evening.

Copy / FAX